Dream Catcher Tree House Resort , Munnar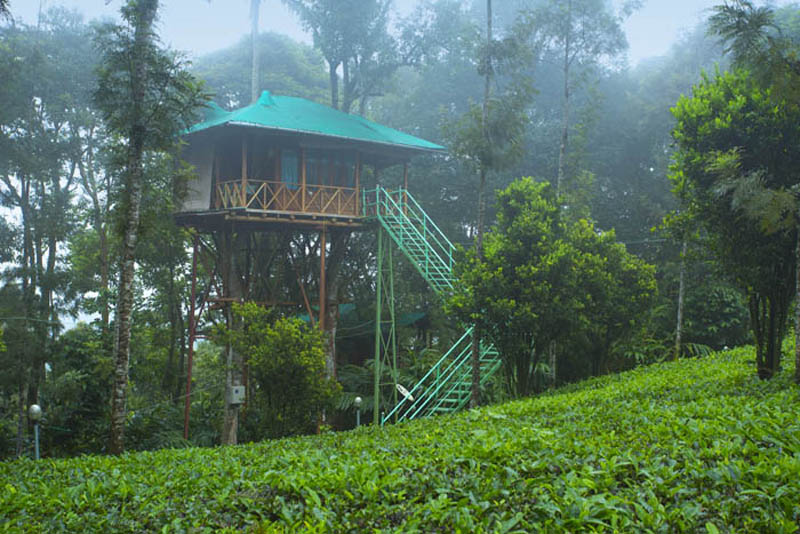 Four unique self-contained tree houses have been carefully chiseled into the dense plantation, offering privacy and the much-needed seductive ambiance for honeymooners. Set as high as 60 feet from the ground, magnificent panoramic views greet couples at every nook and corner from the tree house. If by any chance you failed to pack romance before leaving home, you are most likely to find it here at the Dream Catcher's tree house.
All tree houses have modern attached bathrooms with 24 hrs h/c water, 100% power back up, writing table & chair, Intercom, TV, Guest Supplies and balconies.
Naturezone Resort, Munnar
Nature Zone is all about experiences. Sleeping in a tree house in verdant Kerala.. in the middle of wood… listening to the rhythmic chants of the beetles…waking up to the morning alarm set by the birds…sunrays peeping through the leaves….
Only Nature Zone Resorts in Munnar promises you this magical experience. Our tree houses are built on living trees, with no compromise on comfort. Spacious and airy with bathrooms and even balconies that offer commanding views of the forest. We respect the forest and all its living creatures. Every tree is carefully selected by a tribal and our tree houses are constructed with no impact to the tree or its environs. A stay in our tree house in misty Munnar is a must on a tour of South India.
Carmelia Haven , Vandanmedu,  Thekkady
Tree houses that are built with wood on solid stilts and soar into the canopy of trees around them. Guests with an adventurous streak will find much to enjoy in the novelty of residing high above the ground, in the embrace of the foliage and the spectacular views of the plantation below from the wrap around balcony. The tree houses also offer elegant ethnic themed furnishings and the state of the art in amenities.
Now add a tinge of variety to your days at Carmelia Haven and enliven the moments. Play a game of tennis or take a swim in the swimming pool. Tread to the woods with our guide or warm upto the open air barbecue with bonfire. Enjoy the culture shows, tribal dances or a gorgeous theme dinner. Or just unleash your wildest fantasies and immerse yourself in the wilderness.
Purchase spice and other goodies from a shop inside the premises. Get a doctor's medical assistance in case of an ailment and enjoy many more services as you please at Carmelia Haven. Here days don't end. And you won't feel like going back. You become part of the plantationbeauty and life. Get swept away!
Dine in our exquisite restaurant and have multi-cuisine delicacies. Read books in our library in your leisure moments or hold conference in the most exciting way in our exquisite Conference Hall aptly named "Nattukoottam" which can accommodate upto 300 people in theatre style.
Conference Hall
Multi-Cuisine Restaurant
Coffee Shop
Swimming Pool
Games Room
Travel Assistance
Ayurveda Centre
Kids Park
Safe Deposit Lockers
Vythiri Resort , Wayanad

5 Tree houses (including 1 exclusive child friendly Tree House) set high above the lush canopy of the rainforest. Built by indigenous tribals with locally available materials, the cottages are designed to utilize natural spring water that flows down from the surroundings hills and to use solar energy for power. The ultimate jungle retreat, ideal for couples and for small families.
Due to logistical constraints, guests will be permitted to carry only a limited amount of baggage to the tree house as it is extremely difficult to lift heavy luggage 50 – 60 ft up to your accommodation. Please transfer personal items that are absolutely essential for the duration of your stay into a small bag to take with you. The rest of your luggage will be kept safe at the reception and handed over on your checking out from the tree house.
Rain Forest, Athirapally
< Just looking at this tree house is sure to bring back happy memories. Climb into it, and the tree house surprises you with its airy expanse, not to mention the amenities at hand. So you can lounge in luxury even as you indulge the child in you. The tree house is an exceptional example of the fusion of nature with modern architecture. This design marvel, created by a Swiss architect, has been engineered to allow for the needs of the growing tree. Special care has gone into the design of the tree house to ensure that the tree is unharmed while the tree house remains a safe abode.aStanding in your tree house and looking out at the tops of the trees in the rainforest and thethundering waterfallis an exhilarating sight indeed. A feeling of oneness with Nature prevails. This one-of-a-kind tree house is unique in Kerala, for the kind of luxuries it offers while being right out there in the wild. Enjoy all your en-suite amenities even as the breeze tickles you awake in the mornings or the twittering birds keep you company before sunset [contact-form-7 id="483" title="Kerala Blog Contact us"]